With last Friday being World Health day, and the issues faced by the National Health Service (NHS) well documented, this weeks investment update will be based on a handful of the global healthcare trends outlined within the latest report by the World Economic Forum. The future of healthcare is changing as technology evolves and this remains a key sector of focus for our portfolios now and in the future.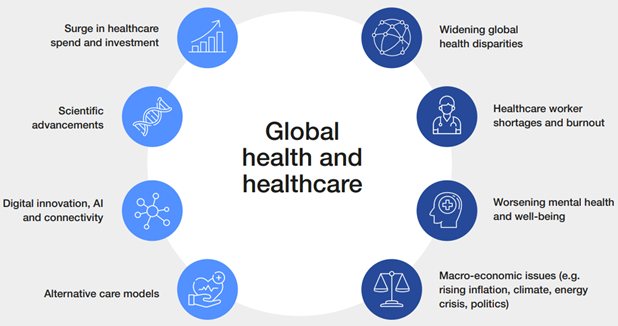 Source: World Economic Forum and L.E.K. Consulting
A few Healthcare data points
Global healthcare spend is thought to have grown more than 40% between 2018 and 2022, reaching $12 trillion, with special attention on areas such as gene immunotherapy and new vaccines for diseases such as Zika and Malaria
Private equity investment in healthcare has grown dramatically over the past decade from $41.5 billion in 2010 to $119.9 billion in 2019
There will be an estimated shortage of 10 million healthcare workers worldwide by 2030
Three billion people are currently not connected to the internet, making the implementation of digital solutions more challenging
Digital innovation and Artificial Intelligence
In 2021, digital investments into the healthcare sector nearly doubled. Digital health technology start-ups took the opportunity of Covid-19 to highlight their telehealth and mental health services. Indeed mental issues were prevalent throughout the pandemic due to isolation, redundancies and uncertainty across the population. There is also focus on data analysis which enables scientists to better predict disease, improve in prevention and monitoring. Digital and artificial intelligence approaches could help increase healthcare access while reducing costs.
On a near term level, the NHS says installing an efficient telemedicine model, capable of remote diagnosis and basic treatment across the country, could reduce the burden of patient care by 25%. As populations grow and the cost of healthcare increases, finding solutions to keeping people out of hospital is going to be critical.
Macro-economic issues
The energy crisis and rising inflation continues to affect standards of living in the UK, impacting physical and mental health. Importantly, effects of the climate crisis have and will continue to have an increasing impact on global health. In 2022 alone there were extreme weather events in the US, Europe, China, India and in particular Pakistan, where over a third of the country was submerged due to monsoon rains. The strain these events place on global healthcare systems should not be underestimated.
Events like these highlight the global inequalities that exist in many areas but are so clearly seen in healthcare where wealth provides for better access to services, and poverty often leads to no healthcare provision or very basic care. The fragility of the healthcare system under the revolving pressures of the pandemic, conflicts, and climate crisis has never been more visible.
Bowmore Portfolios
We currently hold a direct allocation to healthcare across all portfolios that has returned 40% in the previous three years. Although the last eighteen months have been challenging for the sector due to rising interest rates, we retain our long-term view that healthcare revenue streams will continue to grow. We have therefore looked past the short-term noise within equity markets and remain focussed on the view that as normality returns, share prices will again be driven by profitability. Demand for these services is growing exponentially as life expectancy increases.
Source: Refinitiv – Market returns as at 13/04/2023